Online Data Backup
Solutions providing powerful, reliable and secure data backup for all business sizes.
How much would the loss of company information and records cost your business, both for you and your customers? Whether through hardware failure, human error, fire, theft or accidental damage, data loss can have a catastrophic effect. Imagine the impact on your business if you were to lose all your company accounts, sales records, correspondence, customer records and emails.
Online Data Backup provides you with the peace of mind that, in the event of data loss, your data is fully backed up and recoverable within minutes. On schedule, or on demand, your data is automatically compressed, encrypted and sent to a secure primary data centre. Your data is then mirrored to a secondary geographically diverse data centre for extra protection. To retrieve your data you simply launch the Online Data Backup application on your PC, laptop or server and select the files that you need.
Simple, Secure Online Data Backup & Restore
Our Online Data Backup solutions are developed using Attix5 Professional backup and recovery software.  Working in conjunction with our robust network and award-winning service and support, these solutions offer excellent value for businesses wishing to securely protect valuable data.
Our solutions don't require you to buy and install any costly hardware and with the backup process fully automated you can rest assured that you have chosen a reliable and cost effective solution.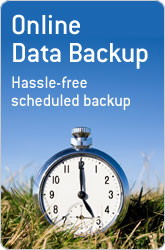 Cloud Vault Express
Desktop & laptop backup for small office and home office
Easy to setup & configure
Scheduled automatic backups
Incremental backup (changes only)
Backup open files currently in use
Data compression
Data encrypted in transit & at rest
Single file granular restore
Designed for desktop computer and laptop users, Cloud Vault Express provides a simple and secure method for protecting valuable business data. We offer a range of storage allocations, depending on the volume of data you need to protect.
Cloud Vault Express offers a simple 'set-and-forget' daily online backup service that will securely backup data from laptops and desktops and restore it on demand 24/7. Data is encrypted before it leaves our PC, preventing unauthorised viewing or access at the earliest opportunity.
With quick and easy setup and a flexible upgrade path, Cloud Vault Express represents a simple and scalable solution.
Cloud Vault Professional
Server backup for businesses of all sizes
All the features of Cloud Vault Express
System state backup
Comprehensive email reporting
Multiple OS support
Plug-ins for Microsoft Exchange and SQL
Optional offline 'seed' backup
Backup streaming
Cloud Vault Professional provides powerful, flexible and robust online data backup for servers. A centralised server is likely to be the heart of a company's network, therefore it is critical that the backup strategy you choose reflects this.
Features of this data protection solution include system state backup and flexible scheduling, together with detailed backup reporting to provide peace of mind for administrators managing unattended servers. Specific plug-ins enable you to backup and restore databases including Microsoft Exchange and Microsoft SQL. The use of incremental technology and compression helps reduce the size of backups meaning they are quicker and consume less of your network's bandwidth.
Cloud Vault Professional represents the perfect solution for administrators of unattended servers as it provides maximum data protection for minimum effort.