Screens
At AOS we supply a great selection of room dividers to give privacy and to make the most of the available space.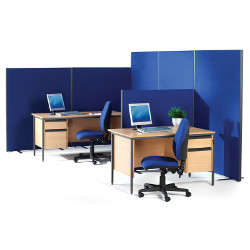 Employees do not like to feel as though they are being constantly observed, and they like turning their desk into their own personal space. Since a building's layout often makes giving each employee their own office difficult, we offer another solution in the form of privacy screens. These screens can help give employees their own space and a sense of privacy, which can help to increase morale and productivity.
At Ashton Office Supplies we offer a wide variety of desktop and floor standing screens available in a selection of fabrics or choose from our acrylic desktops screens in a choice of colours.
For more information or on our office desk screens please contact us and discuss your requirements with a member of our team.